How to do Product Photography for Amazon
Are you looking for creating captivating product photos to showcase your inventory on Amazon to increase your sales? By following simple tips and tricks, the target can be achievable. Product photography can boost your online presence, making it easier for potential customers to find and purchase your products. However, it can be a daunting task to try and create professional-looking photos with minimal equipment and resources. Good product photos can help customers make an informed decision, while bad photos can hurt sales. If you want to take great product photos for Amazon, here are a few tips that can help. This blog will discuss how you can take on product photography for Amazon.
"A picture speaks thousands of words itself." A truth! 
The inventory's product image is a massive opportunity to generate sales and beat your competitors. With professional Amazon photography and proper optimization, you can rank your products at the top of SERP. Let's understand the science behind 'Product Ranking.' It's all about proper optimizatio
What is Product Photography?
Product photography is used to display products for sale. It is often used in catalogs, websites, or marketing materials. It can be divided into two main types: commercial product photography and product photography for advertising. Commercial product photography is used to photograph products in a catalog or website. Product photography for advertising is used to create an image that will be used in an advertisement. Product photography is an essential part of many businesses, as it can be used to make products more appealing to customers and help boost sales. To take great product photos, you should keep a few things in mind, such as composition, lighting, and angle.
Good images don't just increase conversions; they also increase your click-through rate if you have an excellent main image.
How does Product Photography Increase Conversion Rates?
Product photography can increase conversion rates by providing customers with a visual representation of the product they are considering. This allows customers to understand the product better, helping them make an informed decision about whether or not to purchase. It can create an emotional connection with customers, as they can view the product as if they are actually holding it in their hands. This can lead to increased sales, as customers are more likely to purchase a product if they understand it better.
Reminder – People are Emotional Creatures! 
Photography of products helps to create an emotional connection with potential customers. It allows businesses to showcase their products in the best light possible and make them stand out from the competition. Product photography can create engaging visuals for online and offline marketing materials, such as websites, e-commerce, brochures, and catalogs. It can also create compelling product images for social media and advertising campaigns. Using high-quality product photography, businesses can create a positive impression of their products and drive more sales.
Amazon Images Requirements 
Let's give you an honest review! Uploading images at the beginning of your Amazon account is not a piece of cake. This platform has strict and critical requirements that everyone must follow while uploading. Let's understand some technical requirements you must follow to beat your competition and boost your sales. Don't forget that humans can capture visuals 60,000 times faster than text.
Technical Requirements 
JPEG (.jpg), TIFF (.tif), and GIF (.gif) file types are all accepted by Amazon, while JPEG is preferable.
Images should be at least 1000 pixels long and 1,600 pixels or larger on the longest side.
Website zoom is only possible at this bare minimum resolution. The use of Zoom has been shown to increase revenue.
The color mode should be CMYK or sRGB.
Other Contextual Requirements for Main Image
All images must be of the actual thing for sale and accurately represent the item.
The backdrop of the primary (featured) image should be white (this ensures that it blends in with the rest of Amazon's search and product detail pages).
The featured image must be a high-quality photo of the sold item (illustrations, graphics, mockups, or placeholders are not allowed).
Hide logos, watermarks, or inset images; do not display excluded accessories that might confuse the buyer.
Avoid props and text that are not part of the product.
The product title and images should accurately represent each other.
It is not possible to upload animated GIFs to Amazon's servers.
Images should not be depicting any form of nudity.
Requirements for Additional Images 
All photos must be directly related to or depict the item being sold.
Each photo must have excellent lighting, scanning, or photography and be in focus with soft, natural edges and accurate colors.
Any additional items or products must further illustrate your product's potential applications.
How to Add Images to your Amazon Account?
Now, you have done product photography for amazon and have bunch of pictures according to Amazon's requirements. It's time to cover the option of how to upload the images. Let's get started:
Step 1: Log in with your Seller credentials
Step 2: Start by selecting Inventory Management
Step 3: From the pull-down menu, select Manage Inventory.
Step 4: Click on the product for which you'd want to upload updated images.
Step 5: Choose the Add Images tab.
(Pick an available picture spot to place your photo. You can use a blank one or replace the current picture.)
Step 6: Select Browse File to pick an existing file and choose the image you want to share.
Step 7: Select the corresponding button to upload an image(s).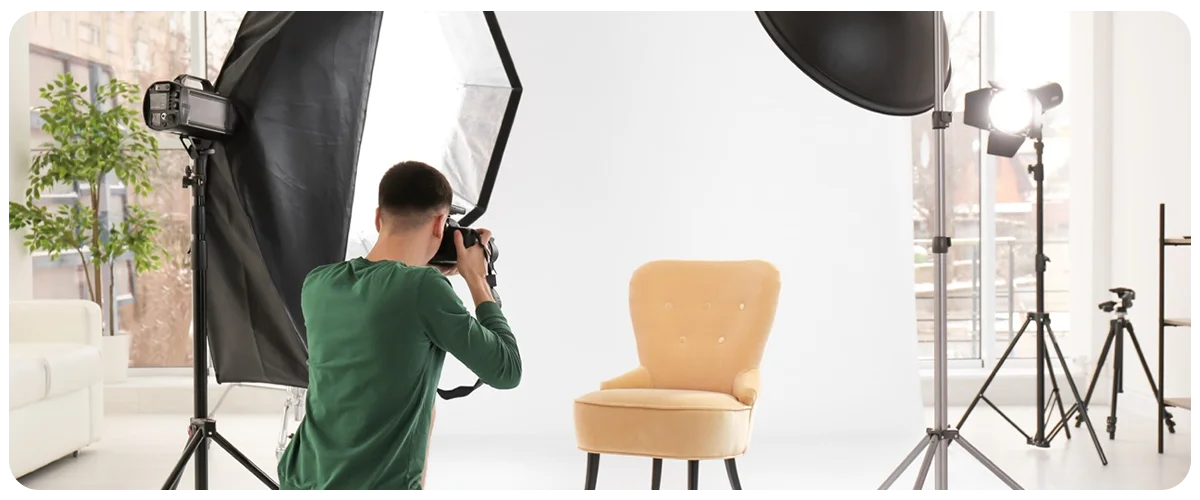 How to do Images Shooting for Home
Product photography for Amazon is one of the most important elements of a successful online store. High-quality, professional photos can make a big difference in how likely customers are to purchase your products. In fact, statistics show that product photos can increase conversion rates by as much as 300%! If you're selling products online, it's essential to invest in high-quality product photography. Let's go through some tips of how to take great product photos that will help increase your conversion rates.
Use a Good Camera
One of the keys to taking great product photos is to use a good camera. This will help you keep the camera steady and avoid blurry photos.
Use a Tripod
It provides the support and stability to the camera and avoids the camera shake. To get the quality and free of blurry product photography for amazon, give a try to tripod.
A Light Diffuser
If you're using natural light, a diffuser can help soften the light and reduce shadows. This will help your product photos look more professional.
Get Closer
When taking product photos, it's important to get close to your subject. This will help ensure that potential customers can see all the details of your products.
What are Some Tips for Product Photography?
Use natural light.
Set up your shot in a well-lit area.

Use a plain background.

Use a tripod to keep your camera stable.

Use a macro lens to capture tiny details.

Capture multiple angles.

Use a lightbox to reduce shadows.

Use a white balance card to set the correct color temperature.

Choose the proper camera settings.

Keep your product clean and free of debris.

Edit your images for the best results.
FAQs on Amazon Product Photography
How can I shoot at home?
There are many ways to shoot at home, depending on the type of photography you are interested in. For basic photography, you can use any digital camera, smartphone, or DSLR with a tripod and a few essential accessories, such as a light stand, reflectors, and backgrounds. You may need to invest in additional lighting, lenses, and other equipment for more complex shots. You can also use the resources around you to create interesting shots, such as natural light, windows, mirrors, and walls.
How do you shoot product photos?
Set up a light source: Natural light is best for shooting product photos, but you can also use a lighting kit with a diffuser, reflector, and backdrop.
Choose a background: Use a solid color or patterned backdrop to help draw attention to the product.
Position the product: Arrange the product to make it look its best and capture it from different angles.
Adjust the camera settings: Set your camera to a relatively low aperture to get plenty of detail in the shot.
Take the shot: Take multiple shots from different angles and distances to ensure you get the best shot.
Edit and adjust: Once you have a shot you want, use editing software to adjust the color, contrast, and brightness to make the product look its best.
By following these tips, you should be able to create great product photos for Amazon. Quality product photos can go a long way toward increasing sales, so it's worth investing the time and effort in getting them right. If you have excellent skills and equipment, you can do it yourself in your home, but to ensure the maximum quality and professionally taken images, choose Artx Films to capture high-resolution and captivating images. You can also book Artx Films rental studio for your upcoming shoot and make the most of it by experiencing the top-tier facilities. Give us a call and book a studio now for professional Amazon product shoots!