Things to consider before booking a rental photo studio
Renting a studio for a photo or video session might be bothering. It is essential to consider all the different things before booking a studio because creating a film or photograph requires a substantial amount of time, money, and effort. This blog discusses the best studio which provides the all-necessary equipment to customers. Artx Film – A photo studio on rent. Check out our setup at Artx Films if you need a relaxing, clean, and professional environment for a customer to shoot a photo or video session. We provide a variety of economic, adaptable choices for your film production.
Why Artx Films as a photography studio on rent?
Portrait Sessions, Brand Shoots, Modeling Shoots, Product photography and all other sorts of Cinematography take place in Artx Films, which is available to provide professional services to customer during the shoot. Our audience includes Small Business Owners, Modeling Agencies, Films Directors, Professional Photographers, and Individuals.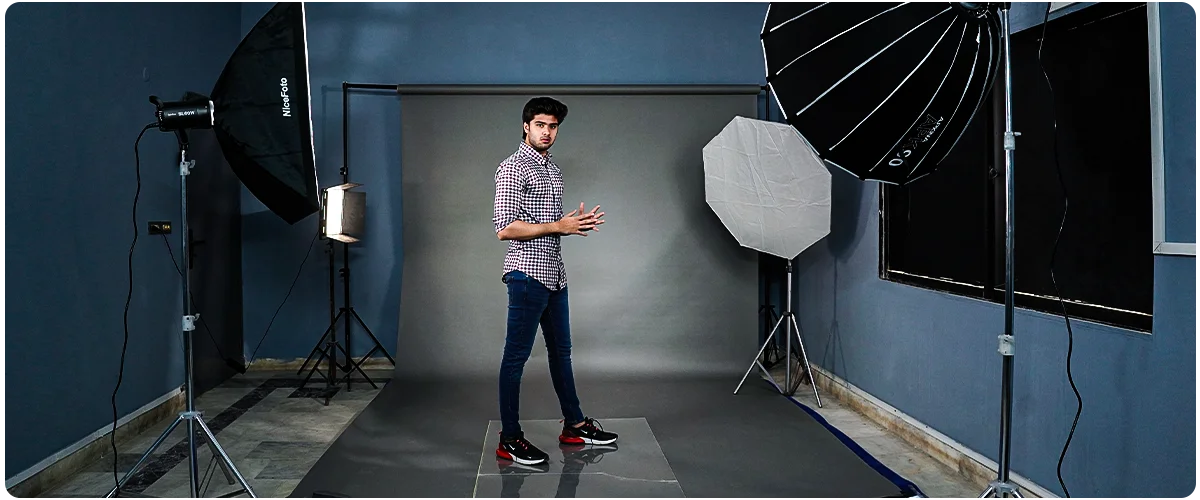 Exceptional and well-facilitated Rental Photo Studio
Our studio offers standard photographic equipment for professionals, learners, and individuals. We provide several customizable packages, a fully featured setting, and much more in renting studio. Let's take a comprehensive look at our rental facilities, which we offer to our valued clients:        
Pleasant and Sufficient Shooting Space
Artx Films is a free-zone, creative, and stylish studio. Here, we create a space for you to express your ideas. We have a large studio space selection at comprehensive price points! These spots are expecting your creativity. Here you get friendly and relaxed environment with a contemporary décor. We offer you to capture enticing shoots in a well-equipped studio that feels like your own.
Customizable Budget
Enjoy the photo studio at market-competitive costs; we offer a place to accommodate your photographic requirements. There are no additional or hidden charges! No matter how long you need a studio, whether for an hour, a day, or a week – it depends on you. We give a well-equipped photo studio in Karachi within your budget; therefore, you can easily host your creativity at Artx Films. Our amenities are available regardless of the duration of your shoot.
Loaded with all necessary equipment
We provide our customers with all photography-related equipment. At Artx Films, we provide everything from lighting to a pleasant environment, including comfortable sitting and changing rooms.
Equipment included
At Artx Films, we provide you with all the necessary equipment to make your photography session effortless and trouble-free.
Different colors of paper backdrops

Green Background for Chroma

Flash and Continued Studio Lights

2nos. 60cm x 90cm Softboxes

2nos. 120cm x 80cm Softboxes with Grids

2nos. 35cm x 165cm Strip Box with Grids

Bathroom and Dressing room

Gel papers

Snoot with grid

Clothing rack

Vignette Mirror
The peaceful and friendly environment
You are the leader in this game, so play freely. Concentrate on the camera light and capture the exact moments that will attract customers to you! We know nothing is more annoying than having an irritating child or noises during the shooting. Because of this, we take care of your comfort and make the entire shoot effortless. From equipment to comfort, we load our clients enticingly; resulting in their happiness and make them fully satisfied.
Book a Photography Studio on Rent with simple Steps
Book your schedule with us by following these simple steps:
Choose a suitable date and time

Our studio remains 24/7 as pre requirement, including all major holidays. Pick a time and day that suits you the best.

Schedule Your Reservations

You can select the time according to your preferences. Multiple reservations can be made without any restriction.

Reserve Confirmation  

The staff will confirm your reservations within 1–2 business days, regardless of whether you made the booking via phone or online.

Multiple payment methods

There are a variety of ways you can pay us. All sorts of digital bank payment options are accepted, and you can also pay through bank cheques and cash.

Don't wait anymore; contact us by phone or book online to schedule your next successful and productive shoots.